Georgian wine qvevri photo credit: Wines of Georgia
The history of Georgian wine is a fascinating tale…
Archeological evidence to date suggests that Georgia has the most ancient winemaking traditions in the world. Researchers uncovered 8000-year-old clay vessels at a site in the country's southeast. Grape and grape seed residues found within were carbon dated to 6000 BCE.
Georgian Wine in Antiquity
According to the Wines of Georgia marketing body, this ancient Georgian wine was appreciated in the first cities of the Fertile crescent, including Babylon and Ur. The writings of ancient Greek poets Homer and Apollonius of Rhodes made reference to Georgian vineyards and winemaking.
The word wine is said to derive from the Georgian gvino – which became vino in Italian, vin in French, and wine in English.
20th Century Decline in Georgian Wine Quality
The proud traditions of Georgian winemaking were compromised during the soviet occupation, which lasted from 1922 to 1991. The soviets split up countless family estates, reconstituting them into large, collective blocks.
Georgian wine was so popular in Russia that low yielding white and red varieties were massively uprooted in favour of more productive grapes. The impetus to produce higher yields and meet consumer demand led to a marked decline in wine quality.
Russia continued to be the major export market for Georgian wine after independence – consuming over 90% of the country's exports. This continued until a 2006 politically fueled embargo on Georgian wine, followed by the 208 Russo-Georgian war forced Georgian producers to look further afield for export opportunities.
 The Modern Age of Georgian Wine
The opening up of the Georgian wine industry, coupled with the slow regeneration of smaller size, family-run estates generated interest around the globe. Today, Georgian wine can be found on trendy restaurant wine lists from Paris to New York.
Georgian wine is often categorized as traditional or modern. Traditional producers make wine much as they did in antiquity – crushing grapes and placing them – sometimes with, sometimes without stems – in egg shaped earthenware vessels called qvevri (kway-vree), then burying them under ground.
Many variations on this traditional process exist and experimentation is rife. Certain practices fit the current mold for the orange wine and/ or natural wine categories, giving them even greater appeal in specialist realms.
Modern Georgian producers make wines in the conventional manner seen across the globe – using stainless steel, concrete, or oak barrels, in winery settings, with temperature controls, etc.
 Quick Facts on Georgian Wine 
The country of Georgia sits at the juncture where Western Asia and Eastern Europe meet. It is bordered by Russia and the Greater Caucasus Mountain range to the north, Azerbaijan to the east, Armenia and Turkey to the south, and the Black Sea to the West.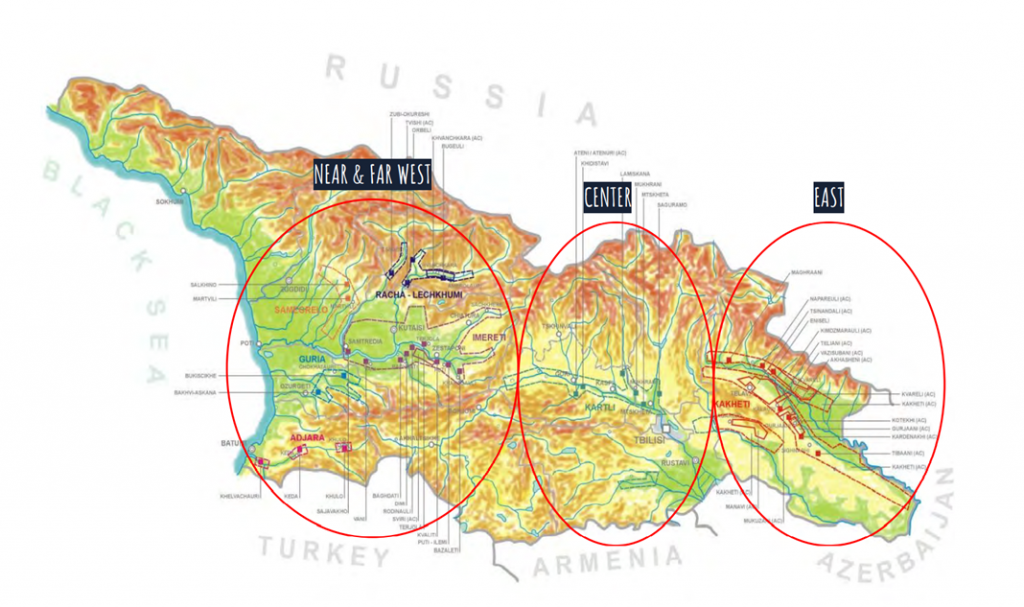 There are currently 55 000 hectares of vines planted in Georgia – this is half the size of Bordeaux's vineyard area – so it is quite a small winegrowing country. Almost three-quarters of vines are planted in the eastern, Kakheti region.
Kakheti has a diverse range of vineyard mesoclimates and soil types – though many prime vineyard sites feature semi arid, temperate continental climates and iron-rich sandy and calcareous clay soils. This iron content is thought to bring a certain earthy, rusticity to the local wines, as well as concentrated flavours. This could also be due to the otherwise poor nutrient levels of the soils, and dry climate, which oblige the vines to dig deep for sustenance.
Over 500 indigenous grape varieties are planted in Georgia, this includes a number of endangered varieties that are only cultivated in Georgia. 75% of Georgian wine is white and 25% is red wine. The two-best known, most widely produced grape varieties in Georgia are: Rkatsiteli (kha-se-telli) and Saperavi.
Rkatsiteli is grown throughout Georgia and produces a white wine with bracing acidity, medium body, and green apple, quince, and peach notes. It takes on more textural appeal and interest when fermented and aged in qvevris.
Saperavi is a teinturier grape variety – meaning that its flesh as well as its skin is deeply coloured. It produces dark, inky reds with dark fruit, spicy and savoury flavours, full body, and brisk acidity. When produced skillfully from lower yielding sites it is a complex, concentrated, ageworthy red.
Rising Trend for Georgian Wine
Master of Wine Lisa Granik attributes the rise in popularity for Georgian wine to its "indigenous grape varieties, incredible bargains, and off-the-beaten-path wine styles". She explains that the Georgian wine industry has grown from 80 registered wineries in 2006 to 961 in 2018.
And while qvevri wines only account for about 1% of production in Georgia – global interest is high. They are diverse in style – as both red and white wines are produced in this fashion. According to Granik, the white wines, fermented on their skins to an amber hue are "Georgia's calling card" to sommeliers and wine merchants around the world.
*** This Georgian Wine article was written for SOMM360  Want to learn more about wine & spirits? Check out their excellent learning platform for articles, audio capsules, and loads of fun quizzes to test your knowledge. ***