It might seem obvious that high-altitude wines have livelier acidity. After all, if you have ever climbed a mountain, you will know how important it is to pack a jacket for the upper slopes. And, if you have ever tasted fruit grow in cooler areas, you will be familiar with their tangier flavours.
In the early 1990s, Nicolás Catena Zapata was on a mission to craft Argentinean wines with greater freshness and finesse. Fearing the frost risks associated with the cooler reaches of southern Mendoza, Catena Zapata decided to set his sights higher.
While most of the region's vineyards were, and still are, situated between 500 and 1000 metres above sea level, Catena Zapata selected a high-altitude site in Gualtallary, within the Tupungato sub-zone of Mendoza's Uco Valley. Perched at a lofty 1500 metres, the bodega's new site was christened the Adrianna vineyard.
After several years, the winemaking team were able to compare the high-altitude wines from the Adrianna vineyard with those from lower lying plots. The differences were striking. The high-altitude wines were not only lighter and brighter, but they were also more deeply hued, with greater aromatic intensity, complexity, and more defined tannins.
The same phenomenon has been observed in other mountainous wine regions. Central Otago Pinot Noir is significantly darker in colour and more fragrant than its counterparts from other regions of New Zealand.
So, what does high altitude mean and how does it affect so many different aspects of a wine's character?
According to the European Centre for Research, Environmental Sustainability and Advancement of Mountain Viticulture, vineyards over 500 metres are considered high altitude. Of course, it is important to factor in latitude (ie. proximity or distance from the equator) when determining the cooling effects of altitude.
As observed in Club Oenologique, 500 metres is high in Europe. Few of the continent's vineyards are planted above 1000 metres due to year-round snow. Whereas, in Argentina's Mendoza region, the lowest lying vineyards start at 500 metres.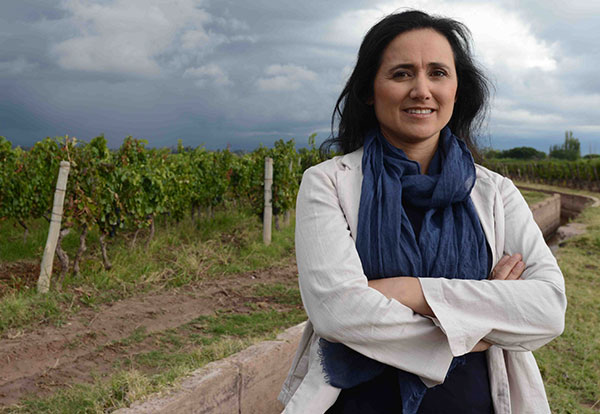 The Catena Wine Institute is a research centre for high altitude viticulture in Argentina. It was established by Catena Zapata's daughter, Dr. Laura Catena, in 1995. The institute defines high altitude vineyards in Mendoza, as over 1000 metres. Regions like Altamira, Eugenio Bustos, El Cepillo and Gualtallary are cited as reference points.
The growing conditions in these cool, mountain sites can be explained thusly. As we climb, the atmosphere gets thinner, air molecules expand, and temperatures plummet. For each 100-metre rise there is an estimated 1°C decrease. However, this thinner atmosphere also equates to greater intensity of sunlight.
Bright, plentiful sunshine allows for optimal photosynthesis meaning that grapes ripen easily and fully. Though still warm during the growing season, daytime temperatures are comparatively cooler than sunny, lower lying sites. These more moderate conditions slow down the rate of sugar accumulation, allowing more complex flavours to develop.
It is at night that the real temperature difference of high-altitude vineyards can be felt. Once the sun sets, the thermostat readings plunge, in some areas by 15°C or more. This effectively shuts down vine ripening overnight, allowing acidity levels to remain elevated.
This balanced, ripe fruit character and increased freshness was readily understood by the bodega and the Catena Wine Institute. However, they also observed that the grapes in their high-altitude vineyards had markedly thicker skins.
With more intense sunlight from the thinner atmosphere comes greater exposure to Ultraviolet-B (UVB) rays, the main cause of sunburn. In a collaboration with PhD students from the Mendoza University, the Catena Wine Institute carried out research into the effect this UV-B sunlight on high altitude grapes. Their work exposed a correlation between higher sunlight intensity and increased concentrations of grape skin tannins.
According to Dr. Catena, "this natural adaptation occurs because the grapes develop thicker skins at high altitude to protect the seeds from the sun—a sort of natural sunscreen". These thicker skins – a barrier against increased UV-B light – contain higher levels of aromatic and polyphenolic compounds.
The best way to comprehend the uniquely ripe, yet refreshing, bold yet elegant style possessed by the best high-altitude wines is, of course, to taste them. A few months back, I sat down to a tasting of three top tier high altitude Malbecs from Bodega Catena Zapata.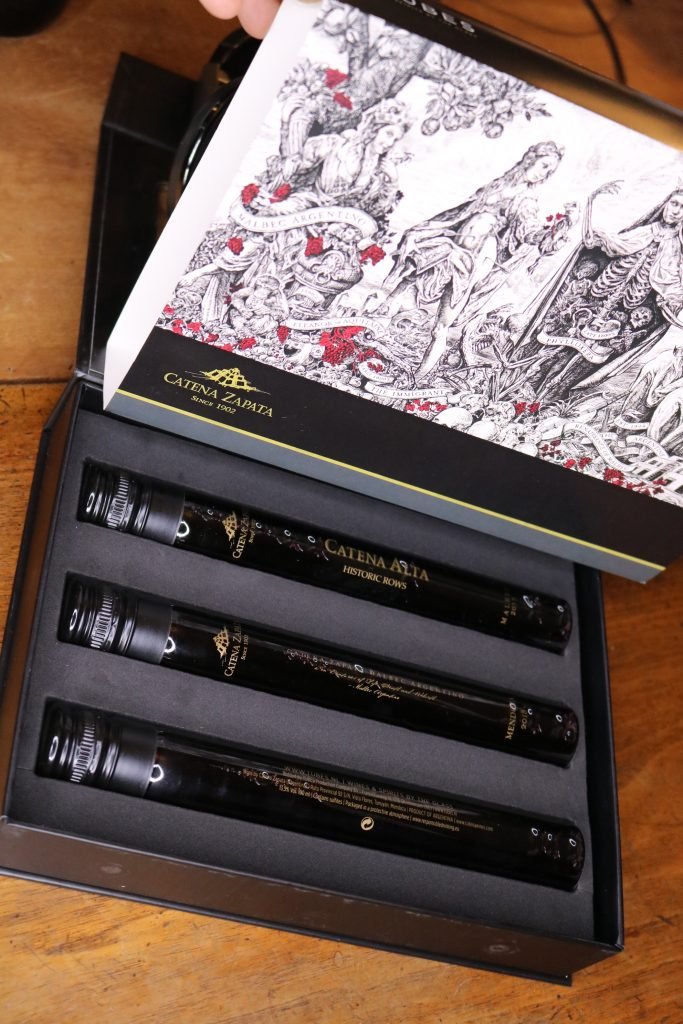 Catena Alta Malbec "Historic Rows" 2017
This cuvée is a blend of Malbec grapes from four of the estate's prime terroirs, extending upwards from the 920 metre Angélica vineyard in the Maipú region, to the Adrianna vineyard. The 2017 vintage was very cool overall, with heavy frost in the spring resulting in lower-than-average yields.
Each vineyard plot was harvested individually and fermented separately to allow the unique characteristics of each site to develop. Ageing lasted 18 months in 50% new French oak barrels.
Attractive notes of stewed dark plum, cassis, and dark chocolate on the nose, with roasted nutty undertones developing over time. The palate is brisk and juicy, lifting the weighty, plush textured mid-palate nicely. Layers of cedar, spice, mingle with tangy dark fruit on the long, fresh finish. 93pts.
Where to Buy: SAQ ($51.25), see North American vendor list below
Catena Adrianna Vineyard, Fortuna Terrae 2017
Fortuna Terrae is a five-hectare plot within the 120-hectare Adrianna vineyard. The name, meaning luck of the land in latin, refers to the deep loamy alluvial soils here, which give lush vegetation and incredible biodiversity.
This certified organic Malbec is fermented 50% whole cluster and spends 18 months ageing in mainly second and third use French oak barrels. The cuvée spends two years in bottle before release.
Initially discreet, with aromas unfurling in successive waves. First cocoa, black pepper, and hints of nutmeg, then ripe dark fruit begins to emerge, and finally, a crescendo of fragrant fresh-cut violets. The palate is at once mouth-wateringly crisp, satiny smooth, and ample in depth and proportion. Finishes dry, with lingering tart black fruit, cocoa, and spice. 10 years+ ageing potential. 95pts.
Where to Buy: see North American vendor list below
Catena Malbec, Argentino 2018
The Argentino cuvée is a more powerfully structured Malbec. It is a blend of old vine plots with sandy soils, from the Angélica vineyard, and a 1095 metre vineyard called Nicasia, in the Parae Altamira area of the Uco Valley. The former site is said to give black fruit flavours, while the latter offers marked florality.
The 2018 vintage was classic for Mendoza, with warm dry conditions, and no frost. Like the Alta cuvée, the gapes were individually harvested and fermented before 18 months ageing in French oak, followed by one year bottle ageing before release.
An array of baked red and dark fruit aromas feature on the nose, underscored by hints of mocha and spice. The palate offers quite firm acidity and a dense, muscular structure rounded out by bright mixed fruit and mocha flavours. Very tightly knit and crisp on the finish, needs three to four years further cellaring to soften. 92pts.
Where to Buy: SAQ ($117.25)
Other vendors in North America:
CANADA: Québec: Noble Sélection, Ontario: Noble Estates, Western Canada: Trialto Wine Group, Atlantic Canada: Innovative Beverages
USA: The Winebow Group