Making eco-responsible purchasing decisions is a daunting task. I can't count how many times I have found myself frozen, deer-in-the-headlights style, mid-aisle of a grocery store or wine shop pondering competing green claims.
Where wine is concerned, buying certified organic might seem like the obvious solution. However, there is quite a lot more to consider when looking for the product with the lowest possible carbon footprint. Scroll down to the end for a short form video version of this article.
According to International Wineries for Climate Action, wine packaging and transport to market account for over 40% of their member wineries' climate emissions. Environmental impact studies from retailers, wine regions, and researchers across the globe agree that these two areas are by far the biggest contributors to a wine's carbon footprint.
Most wine is packaged and shipped in glass bottles. Glass wine bottles have been used for thousands of years. They are sturdy, transparent, inert, and neutral. These latter two qualities make glass the preferred vessel for fine wines, as it best preserves wine aromas and flavours over time. Glass bottles are also reusable and infinitely recyclable.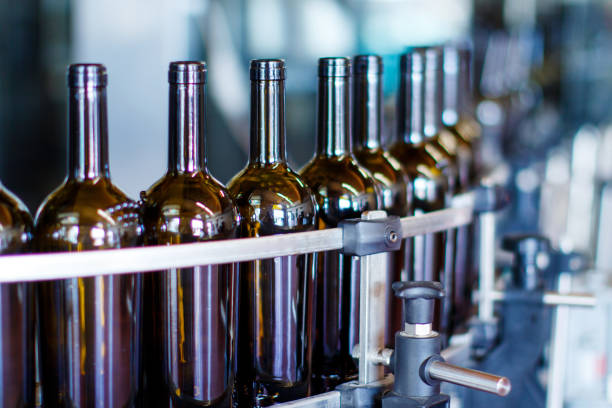 But glass has a few major problems. New glass bottles are incredibly energy intensive to manufacture. Sand melts to form glass at a whopping 17 hundred degrees Celsius (the same temperature a space shuttle reaches as it re-enters earth's atmosphere). The energy source for most of these furnaces is natural gas combustion.
Starting with recycled glass obviously lowers carbon footprint substantially, but glass recycling temperatures are also very high. And, while glass recycling rates are impressive across much of northern Europe, many of the world's most populous nations, like the US, have disappointing track records.
According to a 2018 US Environmental Protection Agency study, only a quarter of glass containers used for consumer goods in America are recycled. The majority end up buried in landfills. This shortcoming is attributed to poorly designed, single stream collection systems in many states, resulting in improper sorting, mixing of glass formats, and glass shatter.
Glass wine bottles are also very heavy. Over the past decade there has been a growing move to lighter weight bottles, with major retailers like the LCBO, championing the cause. However, many producers still feel compelled to package their best wines in bottles weighing up to a kilo or more.
The weight of glass bottles, and their shape (tapered at the neck, meaning lots of wasted space in packing), equate to high carbon emissions during marine and overland transport.
At the 2020 Porto Protocol Climate Change Conference, climate change expert Dr. Richard Smart cited Australian studies on wine carbon emissions from the vineyard to the end consumer. The research indicated that, "export of wine in glass bottles, their transport and limited recycling had the largest carbon footprint (68%)".
So, what is an eco-conscience wine lover to do? Well, if you live in Sweden, you drink your wine from a box.
In a recent Master of Wine packaging sustainability seminar, Ulf Sjödin MW, head of category management at the nation's wine retailer Systembolaget, indicated that 59% of their wines are now sold in bag-in-box.
The format has long been popular in Scandinavia, notably for its convenient size and shape but also for its eco values. A joint lifecycle assessment analysis commissioned in 2010, and updated in 2018, by Sweden, Norway, and Finland's liquor monopolies, revealed that wines in boxes, pouches, and tetrapak cartons have the lowest carbon footprint and least climate impacts per litre.
Wine boxes, pouches, and PET bottles require far less energy to manufacture than glass. They are also significantly lighter formats. An empty PET bottle weighs up to ten times less than the same volume glass bottle (of 560 grams). Formats like wine boxes, cartons, and pouches are very compact, another integral aspect in lowering their carbon footprint during transport. Finally, these formats are far less breakable than glass, limited product waste.
I realize that the idea of buying wine in a box, a plastic bottle, or a can may seem like sacrilege to many. Environmental benefits aside, wine quality in these formats hasn't been that great historically. The wines were generally mass-produced, uninteresting wines with very limited shelf lives.
Improper filling of bag-in-box wines often led to premature oxidation issues. Previous generation PET bottles suffered high oxygen ingress levels and were thus dosed with far higher sulphur levels (than glass bottle wines) to ward off spoilage.
Happily, both the quality of wines packed in alternative formats, and the technology of these containers, have come a long way. PET bottles are now multi-layered with oxygen barriers and scavengers. Sulphur additions have come down dramatically and shelf life is much higher (up to 18 months, depending on the initial wine quality).
Aluminium cans are energy intensive to produce, like glass, but they are highly recyclable. More importantly, of beverage containers, they are reported to have the highest recycling rates world-wide. Most aluminum cans in circulation today are made from significant levels of recycled content. In the US, the average can has 73% recycled content.
The topic of sustainability in wine packaging and transport is a tricky one, with countless variables to consider, and no perfect answers. Today's bag-in-boxes, pouches, and PET bottles are recyclable, but only to a limited degree, with loss of quality over time. End of life disposal and ensuing micro plastic pollution continues to be a significant concern, though advances in bio-PET and other sustainable materials is on-going.
Glass bottles remain the best way to preserve wine flavour and freshness over time. However, for everyday wines you plan to consume shortly after purchasing, it might be worth considering other wine packaging options.
PET, pouches, and cans make great outdoor wine serving options and many boxed wines will stay fresh for four to six weeks after opening so are great for sipping overtime.
As a parting thought, if you can't find the wines you love in these alternate formats, try to at least buy lightweight glass bottles. Heavier bottles do not equate to better wines. They are unnecessary and unethical.
If you live in Québec, try this:
C'est dans le Sac, Vin Rouge Bio du Rhône, Pont du Gard IGP (Cave des Vignerons d'Estézargues)
Packaged in a 1.5 litre wine pouch, this red blend from the Rhône Valley has enticing ripe dark plum and cherry aromas interlaced with subtle baking spice notes. The palate is smooth and generously warming, with velvety tannins. Serve slightly chilled. Stays fresh after opening for six weeks.
Where to Buy: SAQ ($29.95)