Jura wines are sommelier favourites around the globe. Yet, this tranquil corner of eastern France between Burgundy and the Swiss border is one of the smallest of French wine regions. In fact, it represents less than one percent of French wine, in terms of total vineyard acreage.
Since my days in Burgundy, I have been a great admirer of fine Jura wines and have watched the region's rise to (wine bar) fame with growing interest. This past summer, I decided that it was time to investigate and took a camera crew along to document my adventures.
Stay tuned for my Jura wine travel documentary coming out soon. Follow me on Instagram for more.
A Fascinating History
The Jura has some pretty impressive claims to fame. The Jurassic period, when dinosaurs roamed the earth, was named after the Jura mountains. It was here that layers of limestone rock from the period were first identified.
The Jura was also home to renowned French chemist Louis Pasteur, who we can thank for the rabies vaccine, but also for his ground-breaking experiments on microbial fermentation, carried out on Jura wines in Arbois. Pasteur's work propelled the winemaking world forward.
Alongside its impressive diversity of French wine styles, the Jura also prides itself on its gastronomic delights. Comté and Morbier cheeses, Bresse chicken, and Montbéliard sausages are just a few of its highlights.
Prime Terroir
The vineyards stretch across a narrow 80-kilometre undulating expanse in the foothills of the Jura mountains, in an area called the Revermont. While many lump Jura wines in a high-altitude, "mountain wine" category with Savoie, Jura vineyards rarely surpass 400 metres in altitude.
Over the course of the Mesozoic era, loose clay and limestone rock deposits accumulated, forming the major subsoil of the Jura. Today, the range of marl (lime-rich, clay, and silt mudstone soils), clay, and limestone soils, alongside the numerous vineyard orientations, and altitudes allows for multiple grape varieties to thrive here.
The Jura has a largely continental climate with cold, often damp winters and warm, dry summers. Spring frosts, hail, mildew, and rot can all wreak havoc on the vineyards as the 2021 growing season unfortunately displayed. This is a challenging place to grow grapes.
Despite this, the Jura is one of the most organic wine regions of France. Almost a quarter of the region's vineyards are certified organic or biodynamic, and the number is increasing steadily. Natural winemaking has also taken hold strongly in the Jura, with an abundance of high-quality examples of low intervention Jura wines.
Jura Wines: Diverse & Distinctive Styles
The multiplicity of grapes and winemaking practices is a major part of what makes Jura wines so fascinating.
Dry white Jura wines from Chardonnay and Savagnin grapes are made in ouillé and non ouillé styles. Ouillé refers to the process of topping up wine barrels to avoid oxidative reactions. Ouillé white wines are often referred to as Les Floraux locally for their floral, fruity appeal.
The more traditional white winemaking method for Jura wines is to deliberately abstain from topping up barrels, allowing subtle oxidation to occur and a layer of yeast for form; a technique called sous voile. This process brings savoury, nutty, exotic spice flavours to the wines that increase in potency the longer wines are aged. The most famous of sous voile Jura wines is the region's iconic Vin Jaune.
Rosé and red Jura wines are produced from native varieties, Poulsard and Trousseau, as well as Pinot Noir. The Jura also makes excellent Crémant du Jura, Vin de Paille (straw wine), grape brandy called Marc du Jura, and a liqueur wine called MacVin du Jura.
Jura Wines: The Appellations of Origin
The Jura has seven appellations, or AOCs, for its wines – four are geographic and three are related to specific Jura wine styles.
Arbois is the most historic, and among the largest, of Jura wine geographic appellations. It was one of the very first French wine regions to achieve AOC status back in 1936. All styles of Jura wines are made here but the area's red wines are particularly prized. The sheltered slopes of Arbois' best vineyards produce more than two-thirds of the Jura's red wines.
The Côtes du Jura is the region's other large appellation. It is a region-wide, covering the area north of Arbois all the way to the Jura's southern vineyard limits. Like Arbois, all Jura wines styles can be produced from Côtes du Jura AOC vineyards. Chardonnay – which accounts for over 40% of the Jura's plantings – covers much of the southern Côtes du Jura slopes.
Château-Chalon is the smallest area, with approximately 60 hectares of vineyards, but it is hugely significant. It is the birthplace of Vin Jaune. The appellation is named for its picturesque medieval village, which is perched atop the hillside vineyards. Vin Jaune, which is made exclusively from the Savagnin grape, is the only wine produced here.
The Étoile appellation is also diminutive in size but highly prized for its limestone soils and its racy, mineral-driven Chardonnay wines.
Among the style-related appellations for Jura wines, Crémant du Jura is the most prolific. These elegant, traditional method sparkling wines make up a quarter of the region's wine sales.
Making a Jura Wines Movie!
My tour through Jura wine country included visits to three of its top-quality estates. At Domaine André and Mireille Tissot near Arbois, I caught up with Stéphane Tissot to discuss biodynamics and the rise of single vineyard Jura wines.
In Château-Chalon, I learned the secrets of Vin Jaune production from the master himself, Laurent Macle of Domaine Jean Macle. I also checked in on the younger generation at Domaine Baud in the Côtes du Jura town of Le Vernois, to taste some bubblies.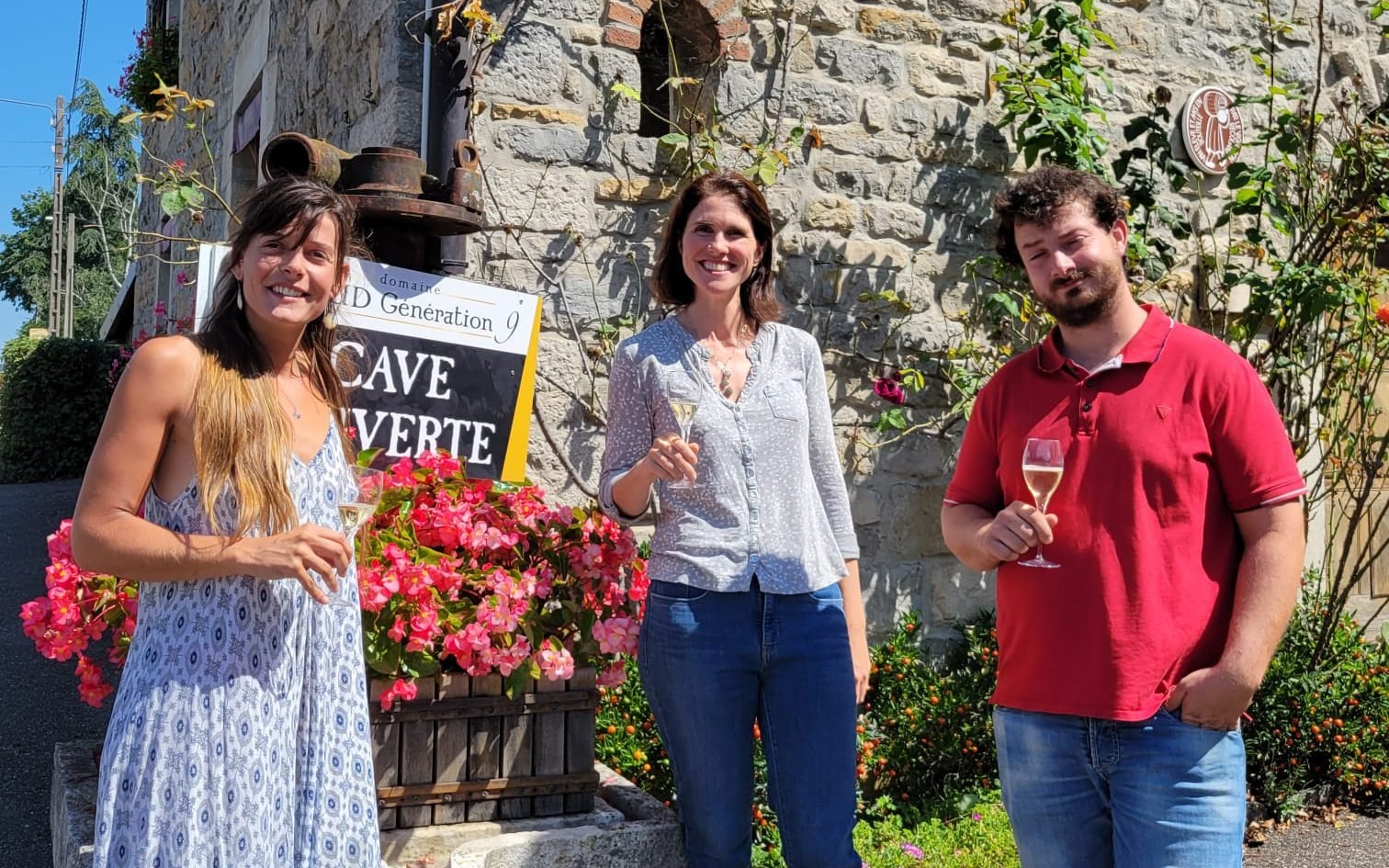 Of course, no tasting of Jura wines is complete without the right food pairings. Luckily, the Jura is home to Meilleur Ouvrier de France, sommelier Philippe Troussard. He took me on a tour of the Arbois market to chat classic and modern Jura wine pairings.
The Jura Wine Tasting Report
To get a larger sense of Jura wines, I also dropped in to the Vins du Jura wine trade association for a regional overview blind tasting. While sampling over 90 recent vintage sparkling, dry whites, and red wines, Vins du Jura director Olivier Badoureaux updated me on all things Jura wines.
A detailed Jura wines tasting report with all my top-rated Jura wines is also coming out soon. Jura wine lovers, watch this space, or watch for updates on Instagram.
Final Thoughts on Jura Wines
The ravages of Phylloxera, two world wars, and the Jura's somewhat remote location took a toll on production. The vineyards that once spanned 20,000 hectares now make up a mere tenth of that area.
The demanding grape growing conditions here are not for the faint of heart. Violent frosts, hail, and extremes of temperature are more commonplace now as the effects of climate change become increasingly apparent.
The 2021 growing season was particularly hard hit. Laurent Macle showed me the gaping hole where an entire, terraced parcel of his Château Chalon vineyards was washed away by heavy July flooding. Producers across the region estimated 50 to 85% crop losses, notably in organically farmed sites.
Despite these hardships, the passion and ambition of the Jura's best growers is unmistakable. Their unwavering commitment to sustainable grape growing, low interventionist winemaking, and high-quality wine overall has led to a rapid rise in global demand.
While we can expect to see lower export levels given the small harvest, Jura wines are most definitely worth seeking out. For my palate, they are among the most distinctive and exciting wines on the market today
*** This Jura Wines article was originally written for Good Food Revolution. Want to learn more about artisanal food, wine, beer and spirits.? Check out their excellent website. ***