Organic wine from New Zealand is a growing phenomenon, with many of the country's major wineries leading the way. What sets New Zealand's organic wines apart and where can you find good examples? Read on to find out more.
Sustainability is the new buzz word for conscientious wineries. This is not to say that sustainable viticulture and winemaking is a recent development, just that messaging to consumers has become far more pervasive.
This upswing in sustainable wine talk, while laudable, has also created a certain amount of confusion amongst wine lovers. Organic, biodynamic, sustainable… where does one practice end and the other begin?
Unfortunately, there are no simple answers. There is also a fair amount of overlap. Many sustainable wineries practice organic viticulture, and numerous organic producers also farm biodynamically or observe certain biodynamic principles.
Thankfully, certain wine regions have taken pains to clarify matters; New Zealand is a fantastic example.
New Zealand is a leading light in wine industry sustainability. The country's wineries first made sustainable wine headlines when they announced their ambitious plan to be net carbon zero by 2050. New Zealand was also the first to develop a nation-wide sustainability certification programme: Sustainable Winegrowing New Zealand™ (SWNZ). Today, a whopping 96% of New Zealand's vineyard area is SWNZ certified.
New Zealand is a leading light in wine industry sustainability with ambitious plans to reach net carbon zero by 2050.
At the producer level, sustainability means crafting quality wine, in an economically viable and socially responsible manner, while protecting the environment for future generations. Organic and/or biodynamics comes into play when we consider this third, environmental pillar of sustainability.
Organic viticulture starts with the elimination of all synthetic chemical fertilizers, pesticides, and herbicides. The organic conversion process takes three years for producers seeking certified organic status. Organic wine from New Zealand is championed by grower-led organization, Organic Winegrowers New Zealand (OWNZ).
"Organic producers are careful co-creators with nature," explains the OWNZ. "We build healthy vines by building healthy soils, and by nurturing a diverse, rich community of plants, soil, insects, and microorganisms".
To date, a little over ten percent of New Zealand's wine producers hold organic certifications, mainly from the country's largest organic certifier, BioGro. This may not seem like a significant figure now, but the demand for organic wine from New Zealand is rising steadily, driving more and more producers to convert.
The demand for organic wine from New Zealand is rising steadily, driving more and more producers to convert.
"Since 2018, there has been a big surge in organic wine from New Zealand " affirms Jared White, Audit Manager and wine industry liaison for BioGro. "Of the 2,418 hectares currently farmed organically, 18% are currently in conversion". While most organic producers have smaller vineyard holdings than the national average, major producers like Pernod Ricard New Zealand, Yealands, and Villa Maria are making increasing organic inroads.
Villa Maria has converted over 100 hectares of their company-owned vineyards to organic winemaking. They aim to be entirely organic by 2030. "We are motivated to further enhance the health of our soils and environment so we can reap the rewards of beautiful fruit for years to come" explained Villa Maria's viticulturalist, Hannah Ternent, in the The Drinks Business.
But what does organic wine production look like in practice? In the Central Otago, where an impressive 25% of vineyards are farmed organically, top wineries are keen to share their wisdom. From precise canopy management, to carefully selected cover crops, to organic composts made from winery waste, the team at Felton Road employs a wide variety of techniques to boost vine and soil health. They also limit their water usage by using mulches and monitoring soil moisture levels.
In the Central Otago, an impressive 25% of vineyards are farmed organically.
Organic production does not stop at the winery doors. In organic certifications, winery additives like cultured yeasts and sulphur are carefully controlled, and genetically modified organisms are prohibited. Using only native yeasts and minimal sulphur is a point of pride for many organic producers. Marlborough-based estate, Seresin, feels that their organic vineyard cultivation, and low interventionist winemaking, are integral factors making their wines "uniquely expressive of their origins and their vintages".
Of course, New Zealand is far from the only wine-producing country with a growing commitment to organic wine. When asked what sets them apart, BioGro's Jared White was quick to reply. "There is a lot of support and information sharing here. OWNZ also offers a mentoring program, and they do in-depth research, providing a wealth of data for growers".
One such research project was an organic conversion study, following selected vineyards through the process in three growing areas (Marlborough, Central Otago, and Hawkes Bay). OWNZ undertook regular soils analyses and pest and disease monitoring, among many other parameters measured. The findings from these projects are invaluable tools for new producers looking to embark on the process.
Continuous improvement, a central tenet in sustainability circles, is also at the heart of the organic wine movement in New Zealand.
Continuous improvement, a central tenet in sustainability circles, is also at the heart of the organic wine movement in New Zealand. A requirement to demonstrate biodiversity enhancement – currently only enforced in Canadian organic standards – is in the works.
The sector is also moving towards national regulations. This will allow producers to access equivalency arrangements with organic wine programmes abroad. At present, organic wine from New Zealand must meet organic regulations in the country of export.
Here in Canada, if an organic wine from New Zealand, certified by BioGro, doesn't also satisfy the guidelines set out by the Canada Organic Regime, they cannot market their wines as organic.
Seeking out organic wine from New Zealand is worth the effort though. The environmental benefits are numerous and, according to Villa Maria's Hannah Ternent, there is another advantage. "Wines made from organically grown grapes have more intense flavours… you can taste the care put into the soil, the careful handling of the fruit, and the respect for our relationship with the land".
Looking for organic wine from New Zealand, available in Canada? Here is a list of OWNZ accredited members with wines regularly available across the country:
Fully Organic (producing all/most of their wines solely from organic or biodynamic grapes)
Carrick, Churton, Clos Henri, Dog Point Vineyard, Felton Road, Quartz Reef, Rippon, Seresin, Supernatural Wine Co., Two Paddocks, Burn Cottage Vineyard, Neudorf Vineyards, Pyramid Valley, Te Mania
Partly Organic (producing some wines from organic or biodynamic grapes and/or vineyards in conversion)
Amisfield, Babich, Giesen, Loveblock, Pernod Ricard New Zealand, Villa Maria, Wither Hills, Yealands
*** This Organic Wine from New Zealand article was originally written for Good Food Revolution. Want to learn more about artisanal food, wine, beer and spirits.? Check out their excellent website. ***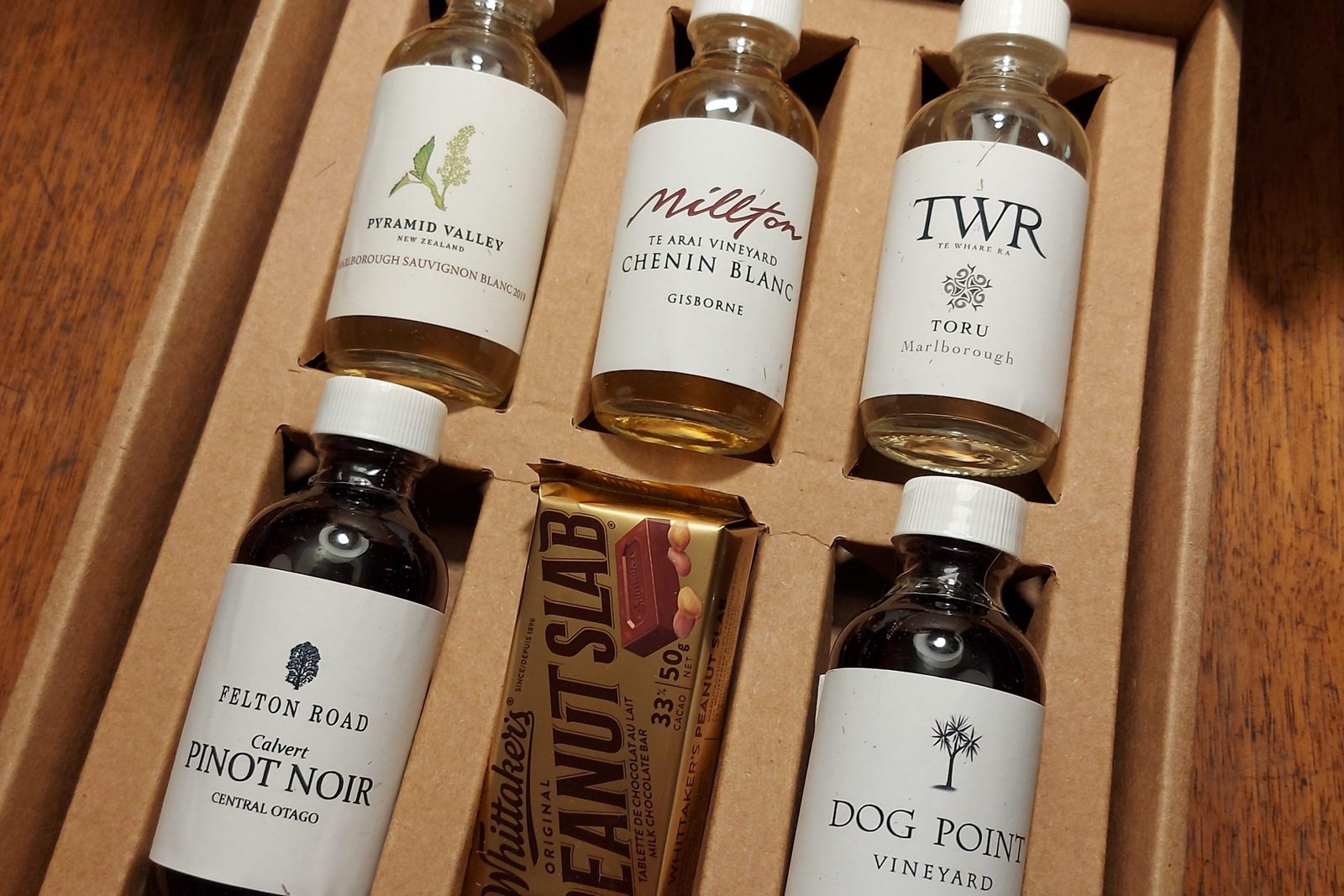 As part of their organic wine week, I was sent a small selection of organic wines from New Zealand to sample (and a tasty treat 😉). Sadly one bottle was out of condition, but reviews for the others are given below.
Pyramid Valley Sauvignon Blanc 2019, Marlborough – 93pts. PW
Sourced from biodynamic vineyards in Marlborough's Waihopai and Omaka Valleys. Vinified in large neutral oak casks with native yeasts. Aged for six months on its fine lees.
Attractive lime, gooseberry aromas are underscored by white floral and peppery hints on the nose. The palate is electric; a vibrant yet balanced display of racy acidity, lithe, taut structure, and tangy green fruit that linger on the long, peppery finish. Very elegant, harmonious Marlborough Sauvignon Blanc.
Where to Buy: Inquire with winery
Milton "Te Arai Vineyard" Chenin Blanc 2019, Gisbourne – 90pts. PW
Estate Chenin Blanc produced in organic and biodynamic certified vineyards. Fermented and matured in a mix of large neutral oak casks and stainless steel tasks, on its fine lees.
Heady aromas of yellow plum, lemon, and raw honey feature on the nose. The palate is fresh, broad, and rounded, with excellent depth of juicy yellow fruit tapering to honeyed nuances. Slightly off-dry on the finish, well-balanced by lively acidity and intriguing spiced notes.
Where to Buy: Inquire with winery
Te Whare Ra (TWR) "Toru" 2020, Marlborough – 91pts. PW
A field blend of mainly Gewürztraminer, with Riesling, and Pinot Gris grown in certified organic vineyards, many of which are also biodynamically farmed. The grapes are handpicked, with some parcels seeing extended skin contact before co-fermenting at low temperatures in neutral vessels. No fining or filtering.
Highly aromatic, with notes of white grapefruit, jasmine, lychee, and exotic spice fairly leaping from the glass. The palate is medium in body, with bright citrus and off-dry tropical fruit flavours. A rounded, textural mouthfeel gives way to refreshing hints of bitterness on the finish.
Where to Buy: Inquire with winery.
Felton Road Pinot Noir "Calvert" 2019, Central Otago – 94pts. LW
Estate, biodynamic Pinot Noir from the Bannockburn sub-region of Central Otago. Vinified in a gravity flow cellar, with 25% whole clusters, and a long pre-fementary cold soak to preserve and enhance delicate aromas. Aged 16 months in 30% new French oak barrels.
Perfumed nose featuring dark cherry and berry fruit, heightened by floral notes and subtle oak spice. On the palate, brisk acidity lifts the ample, fleshy frame and provides thrilling definition to the dense core of ripe, black and blue fruit. Finishes with velvety tannins, nuances of cigar box and spice.