Photo credit: Sacred Hill Wine
Picture a crisp, steely, cool climate style of Chardonnay. Now, dial up the fruit ripeness several notches. Add a little more mid-palate weight and richness. Et voila, you have the basic outline of Hawkes Bay Chardonnay.
Hawkes Bay is the oldest wine producing area in New Zealand. Located on the eastern coast of the North Island, the region extends inwards from the South Pacific coast. With its abundant sunshine and temperate climate moderated by cooling maritime breezes, Hawkes Bay produces voluptuous wines with bright acidity.
With just over 5000 hectares planted, the region accounts for 13% of the country's total acreage (second only in size to the mighty Marlborough). Best known for its Merlot-led red blends and Chardonnay, Hawkes Bay is also gaining critical acclaim for its Syrah, Sauvignon Blanc, and Pinot Gris.
The vineyards of Hawkes Bay cover a large and highly varied terrain arching 350 km along the South Pacific coast and sprawling inwards across a land contoured over thousands of years by four major rivers.
The Coastal Areas, prized for their chiselled Chardonnay and aromatic Pinot Noir, have a distinctly maritime climate and long growing season.
The Hillsides offer a range of altitudes and orientations. They are mainly planted to red varieties, with some particularly favourable limestone-rich sites.
The Alluvial Plains are diverse in soil type and plantings. The Gimblett Gravels sub-zone, particularly revered for its Merlot blends, boast gravelly soils with excellent drainage.
The River Valleys provide diverse, yet generally warm, sheltered growing conditions.
Central Hawkes Bay is a cooler, inland sub-region with altitudes reaching 300 metres. Aromatic white grapes like Sauvignon Blanc and Pinot Gris, as well as Pinot Noir, are popular here.
Hawkes Bay may seem an insignificant wine region in global terms. However, the quality of its Chardonnay is ample proof that New Zealand is far more than a one trick (aka Sauvignon Blanc) pony. It was this thinking that led the Hawkes Bay Winegrowers Association to create a Hawkes Bay Chardonnay Collection to send out to wine critics around the world.
In order to select the 12 Hawkes Bay Chardonnays to include in the pack, Master Sommelier Cameron Douglas was called into action. He blind tasted over 50 of the region's best Chardonnays with the view to selecting the best possible cross-section of styles, prices, and terroir.
The 2019 growing season was deemed "extraordinary" by local growers. Hot, sunny days and cool evenings blessed the period leading up to harvest. This allowed estates to pick according to their optimal timelines, resulting in wines praised for their pristine fruit quality and vibrant acidity.
This was indeed the impression I had after tasting the range. The majority offered vivid, ripe fruit flavours and weighty structures balanced by lively acidity. The best of the bunch are already quite approachable, with harmoniously integrated oak. They also possess the freshness and concentration to age well over the moderate term.
Curious to try a Hawkes Bay Chardonnay? Here are my notes on the 12 wines sampled.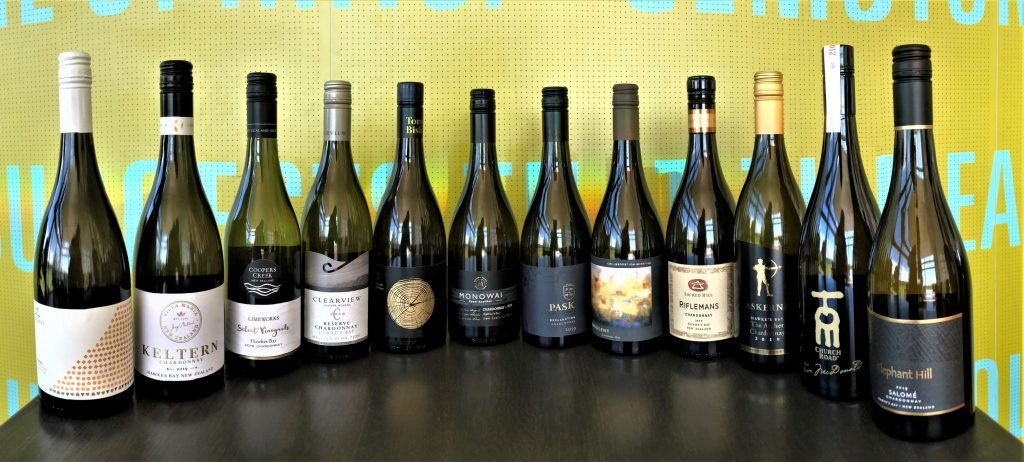 Photo credit: Hawkes Bay Winegrowers Association
(What do VW, PW and LW mean?  Click on my wine scoring system to decode the scores for these week-end wine recommendations):
Cooper's Creek 'The Limeworks' Select Vineyards Hawkes Bay Chardonnay 2019 – 89pts. PW
Intense notes of pineapple, ripe lemon, and red apple on the nose. The palate is tangy and bright, with medium body, a smooth texture, and attractive flavours of lemon curd and vanilla spice. Great value!
Price: NZ $25.00 at the winery
Monowai 'Upper Reaches' Hawkes Bay Chardonnay 2019 – 88pts. PW
A fragrant white, with heady notes of honeydew melon and underlying floral, spice hints. Fresh and rounded on the soft palate with candied fruit flavours and subtle vanilla spice on the finish.
Price: NZ $35.00 at the winery
Collaboration Wines 'Aurulent' Hawkes Bay Chardonnay 2019 – 91pts. PW
An attractive nose, with complex aromas of orange blossoms, lemon curd, tropical fruit, and underlying spicy oak nuances. Mouthwatering acidity on the palate gives nice vibrancy and lift to this full-bodied, moderately concentrated white. Toasty, crême caramel notes linger on the finish.
Price: NZ $35.00 at the winery
Tony Bish 'Heartwood' Hawkes Bay Chardonnay 2019 – 88pts. PW
Tempting aromas of orchard fruit and anis, mingle with hints of marzipan and butterscotch on the nose. Fairly tightly wound on the palate, with brisk acidity, a firm, full-bodied structure, and subtle phenolic edge. Cellar for two to three years, or decant before serving.
Price: NZ $35.00 at the winery
Pask Winery 'Declaration' Chardonnay Hawkes Bay Chardonnay 2019 – 89pts. PW
Initially restrained, with white floral notes, red apple, and herbal nuances developing with aeration. A taut, racy attack gives way to a creamy, medium weight mid-palate with overt toasty, vanilla oak flavours and orchard fruit on the finish.
Price: NZ $45.00 at the winery
Clearview Estate Winery 'Reserve' Hawkes Bay Chardonnay 2019 – 91pts. PW
Enticing aromas of white blossoms, anise, apricot and stony mineral hints feature on the complex nose. The palate is initially crisp and taut, then deepens to reveal a subtle creaminess on the medium weight core. A touch of salinity and lively acidity lift and balance the spiced oak finish.
Price: NZ $45.00 at the winery
Askerne Wines 'The Archer' Hawkes Bay Chardonnay 2019 – 90pts. PW
A temptingly ripe nose offering aromas of yellow pear, red apple, and raw honey. A Mâcon lookalike in terms of its fresh acidity, rounded structure, and sun-kissed, fruity flavours mingled with subtle toasted oak nuances. Finishes warm yet smooth.
Price: NZ $50.00 at the winery
Sacred Hill 'Rifleman's' Hawkes Bay Chardonnay 2019 – 94pts. LW
Flinty mineral notes add wonderful nuance to the pretty chamomile, lemon, and yellow apple aromas on the nose. The palate is elegantly constructed; crisp, full-bodied, and subtly creamy with flavours of brioche, orchard fruit, and subtle vanilla spice. Long and layered.
Price: NZ $70.00 at the winery
Elephant Hill 'Salomé' Hawkes Bay Chardonnay 2019 – 94pts. LW
Heady notes of ripe lemon, red apple, quince, brioche, and spice fairly leap from the glass. The palate offers fine balance between its tangy acidity, full body, and concentrated core of juicy orchard and stone fruit flavours. Enticing gooseberry notes mingle with saline hints and well-integrated toasty oak nuances on the finish.
Price: NZ $75.00 at the winery
Villa Maria 'Keltern' Single Vineyard Hawkes Bay Chardonnay 2019 – 90pts. LW
Overt lime cordial aromas overlay white blossoms and stony mineral hints on the fragrant nose. The palate is full-bodied, with striking acidity and a concentrated, textural core. Finishes on zesty notes of citrus mingled with spicy oak.
Price: NZ $80.00 at the winery
Bilancia 'Tiratore', La Collina Vineyard Hawkes Bay Chardonnay 2019 – 88pts. LW
Discreet lemon, lime aromas mingle with yellow apple and floral hints on the nose. The palate is crisp and medium weight, with bright, fruity flavours, and a warming, toasty finish.
Price: NZ $90.00 at the winery
Church Road 'Tom McDonald' Hawkes Bay Chardonnay 2019 – 92pts. LW
A flinty nose, with delicate notes of white fleshed fruit, chamomile, and fresh almond developing over time. The palate is racy and firm, with notable weight and depth of flavour, ably balancing the vibrant acidity and lingering spicy, butterscotch flavours.
Price: NZ $150.00 at the winery