What is the best sparkling wine for parties? This question pops up each holiday season. Though perhaps this year it has special significance. After a slightly less than festive Christmas last year, I think we are all in the mood to celebrate…albeit in smaller groups than we once knew.
So, its time to pop some corks. Prosecco Superiore DOCG corks, to be more specific.
What is Prosecco Superiore DOCG?
Prosecco is a sparkling Italian wine produced in Northeast Italy. While many enjoy Prosecco as cheap and cheerful fizz, there are truly elegant wines to be had. Just look for the word Prosecco Superiore and the appellation mention Denominazione di Origine Controllata e Garantita (or DOCG) on the label.
As the name would indicate, Prosecco Superiore DOCG is the premium tier of Prosecco. These superior sparkling wines have finer effervescence, greater freshness, and persistence. Their discreet spring blossom and orchard fruit aromas are often heightened by hints of aniseed, ginger, or hazelnut.
What elicits this transcendent quality? A variety of factors, the most important of which is vineyard site. Basic Prosecco DOC is produced from large swathes of largely flat, high yielding vineyard sites. In contrast, Prosecco Superiore DOCG hails from just two, unique hillside locations: Asolo and Conegliano Valdobbiadene. The latter is the historic heart of Prosecco winemaking.
The hills stretching northwest from the town of Conegliano to that of Valdobbiadene rise sharply in altitude, providing a cool, yet sunny climate. These conditions allow the grapevines to ripen more slowly, developing greater aromatic complexity, while preserving high natural acidity.
Here, larger vineyards give way to small plots of, often, terraced vineyards. The steepest sites are laboured by hand, a practice dubbed Viticoltura Eroica (heroic viticulture). Yields are far lower than on the valley floor, giving grapes with more concentrated flavours.
What Makes Prosecco Superiore DOCG the Best Sparkling Wine for Parties?
Great sparkling wines are being made across the globe in a variety of styles. There are countless options to choose from. However, when it comes to the best sparkling wine for parties, Conegliano Valdobbiadene Prosecco Superiore DOCG has several key assets.
The quality price ratio is very attractive. Prosecco Superiore generally retails for little more than the DOC tier, and far less than most other premium bubblies. The precise production methods (and lack of significant vintage variation) also results in strong consistency from one bottling to the next.
Prosecco Superiore DOCG possesses a crowd-pleasing taste profile. At four bars of pressure, its bubbles are softer and smoother than traditional method sparkling wines (which can reach five to six bars). It is fresh and light, with subtle, amiable flavours.
Finally, and potentially the clincher as best sparkling wine for parties, Prosecco Superiore DOCG is low in alcohol. The majority weigh in at just 11% to 11.5% by volume. This makes for a lighter alcohol option, with no compromise on flavour or quality.
The Finest of Prosecco Superiore DOCG Wines
If buying the best sparkling wine for parties means seeking out the very top, look for words like Rive or Cartizze on a Prosecco Superiore label. These mentions are linked to the choicest terroirs of the appellation.
Rive essentially means single vineyard. These sites have been identified as having exceptional vine growing conditions. Wines from designated Rives can indicate the term, followed by the name of the vineyard, on their labels.
Cartizze is Prosecco's one and only Grand Cru. It is the name of one specific vineyard area on a hill at the highest point of the appellation. The grapes here ripen slowly and fully giving very ripe, structured, voluptuous wines with bright, tangy acidity.
Proseccco Superiore wines from Cartizze are traditionally made in the dry style. However, the majority have such vibrant acidity and rich, fruity flavours that the sweetness is well balanced thus barely perceptible.
Finally, for those looking to go off the beaten track, there are the Sui Lieviti (otherwise known as Col Fondo) wines. Today, Prosecco develops its effervescence from a secondary fermentation in closed tanks. However, the earliest Proseccos were bottle fermented. A small cohort of producers is reviving this historic custom.
These cloudy, bone-dry, lees aged Prosecco Superiore DOCG are currently rare, but with the rise in interest for pétillant naturel wine styles we are sure to see more in years to come.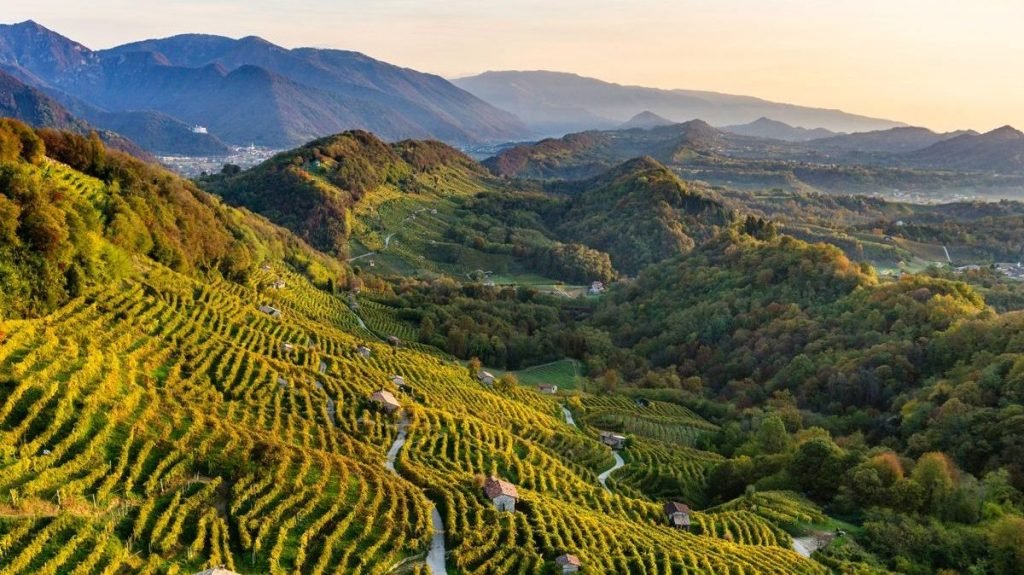 Best Sparkling Wine for Parties, Parting Tips
Prosecco ranges from bone-dry to slightly sweet, an important point to keep in mind. The sweetness level is indicated on the label, but the terms used are slightly confusing.
Extra-Brut is the driest, most linear style, at zero to six grams/ litre (g/l) of residual sugar
Brut is still very dry, though slightly broader on the palate, at six to 12g/l
Extra-Dry actually refers to fruity, subtly off-dry styles, at 12 to 17g/L
Dry is another oxymoron, referring to fuller-bodied, semi-sweet styles, at 17 to 32g/l
For the greatest aromatic expression, Prosecco Superiore DOCG wines are best served chilled between six and eight degrees Celsius, in a large, tulip shaped glass.
This "Best Sparkling Wine for Parties" article was sponsored, and photos were provided, by the Consortium Conegliano Valdobbiadene Prosecco Superiore DOCG. Cover photo credit to Adobe Spark stock images.