Rías Baixas vineyards are located on the northwestern coast of Spain, in the region of Galicia. In the Galician dialect, the name Rías Baixas means "Lower Rias", and this refers to the four estuaries that dissect the area.
Side note: This Rías Baixas vineyards article is also available in video format (produced in partnership with Rías Baixas wines). To watch, just scroll to the bottom. If you enjoy the video, consider subscribing to my YouTube wine education channel (click here) so you never miss an episode!
The estuaries of Rías Baixas are home to a rich diversity of marine life. They shape the landscape and are a major part of what make Albariño from Rías Baixas vineyards so unique.
Rías Baixas Vineyards: Five Unique Sub-Regions
Five distinct vineyard sub-regions were identified in Rías Baixas based on proximity to or distance from the coast, altitude, orientation, soil variations and so forth.
They are: Val do Salnés, O Rosal, Condado do Tea (con-dah-doh d-oh tay-ah), Soutomaior (S-oh-toh-my-or), and Ribeira do Ulla (Ree-bay-ra do Oo-ya).
 Rías Baixas Vineyards: Val do Salnés
Val do Salnés, on the Atlantic coast, is the region's oldest sub-region. Over half of Rías Baixas vineyards, and two-thirds of its wineries, are based here. It is also considered to be the birthplace of the Albariño grape variety.
Both 100% Albariño and blended white wines are made in Val do Salnés. According to Rías Baixas DO regulations, blends must be made from a minimum of 70% Albariño, with local varieties: Loureiro, Treixadura, or Caiño Blanco.
Val do Salnés has the coolest and wettest weather patterns of all Rías Baixas vineyards, with average yearly temperatures of just 13 degrees Celsius. The soils here are granite-based and quite rocky. These factors give the wines of  Val do Salnés high, nervy acidity and marked salinity.
Cooler vineyard sites within the sub-region have tart fruit flavours on the citrus and green fruit spectrum, whereas sunnier spots tend to have riper, tropical fruit nuances.
 Rías Baixas Vineyards: O Rosal
O Rosal is a small, coastal sub-region south of Val do Salnés. It follows the northern bank of the Miño River, looking out to Portugal on its southern bank. The vineyards directly along the river are planted on terraces, with excellent sun exposure.
This area is slightly warmer with alluvial topsoil over granite and outcrops of slate. Albariño is often bottled varietally, but when it is blended, Loureiro is the secondary grape variety authorized in O Rosal. This delicate white variety gives a subtle floral note to wines.
In general, the white wines of O Rosal have intense stone fruit flavours and a rounded mouthfeel.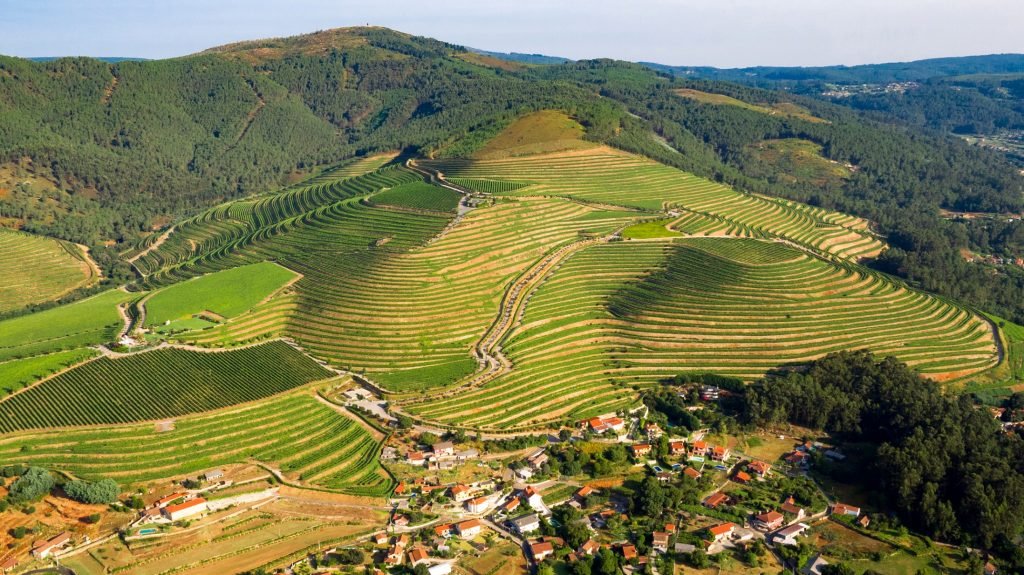 Rías Baixas Vineyards: Condado do Tea
The terroir of Condado do Tea extends inland from O Rosal following the Miño River into a rugged, mountainous territory. The vineyards are dissected by a tributary of the Miño, called the Tea River and Condado do Tea (the "Country of Tea") is named for this.
As Condado do Tea is further from the coast, it is less affected by cooling marine breezes, so it is a warmer territory. The soils are quite shallow here, with granite and slate sub-layers quite near the surface. Slate is an excellent conduit for radiating heat, which helps boost ripening.
Albariño is, again, the major grape. When it is blended, the permitted secondary variety is Treixadura (aka Trajadura) which has quite a firm, steely structure.
Condado do Tea wines are earthier than other sub-regions, with less overt fruit flavours.
Rías Baixas Vineyards: Soutomaior
 If we head due north of Condado do Tea, we arrive at the smallest Rías Baixas sub-region: Soutomaior (S-oh-toh-my-or). A mere 12 hectares of vines and three wineries are based here.
Soutomaior starts at the head of the Rías de Vigo. It is a hilly area with light, sandy soils over a granite bedrock. The wines are taut and mineral-driven.
Rías Baixas Vineyards: Ribeira do Ulla
 Ribeira do Ulla (Ree-bay-ra do Oo-ya) is the newest Rías Baixas vineyards' sub-region, located north east of Val do Salnés and directly south east of Santiago de Compostela. The vineyards are planted on the hillsides and plains along both banks of the Ulla River.
The soils here are rich and alluvial, giving very fruity, rounded, easy drinking white wines.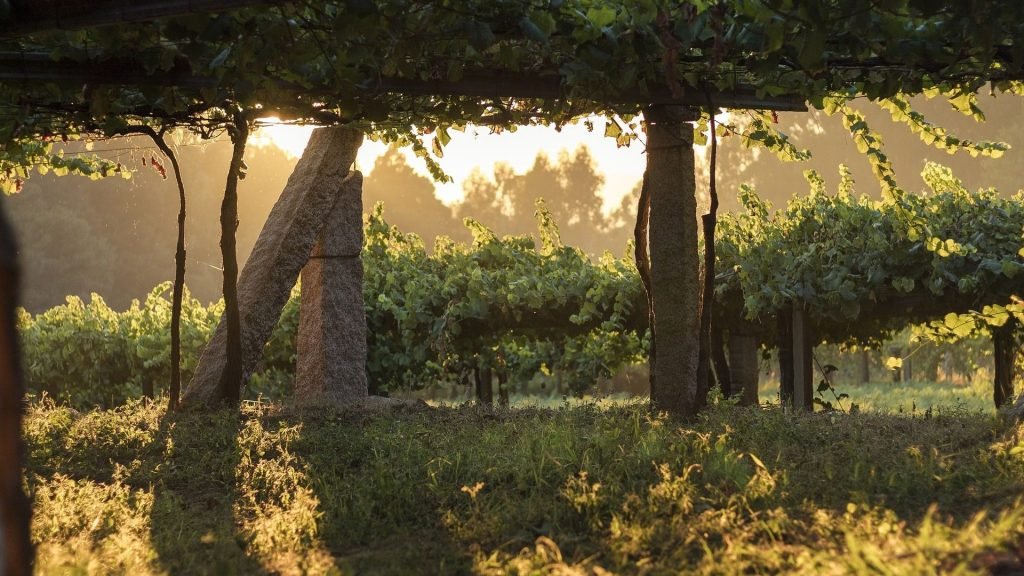 Rías Baixas Vineyards' Wines Tasted in the Video!
Rectoral do Umia Abellio Albariño, Val do Salnés
Bodegas Altos de Torona, Pazo de Villarei, O Rosal
Fillaboa Winery Albariño, Condado do Tea
Photo credit: https://www.riasbaixaswines.com/