Have you ever stopped to actually read a wine label? I mean, not just a quick glance at the picture of a stately Château or a cheeky hippo, but really taken a few seconds to peruse the contents of the front and back label? You would be amazed by how much you can learn about a wine's style and quality level once you know how to read a wine label.
***Side note: I have also made this post into a YouTube video. To watch, just scroll down to the bottom & click play. If you enjoy the video, consider subscribing to my YouTube channel so you never miss an episode of my weekly wine education series. 
The wine label, as I describe it below, often encompasses the front and back labels as many producers prefer to keep the front label information to a minimum to focus on the estate or brand name and the art work. With that in mind, the useful information on wine labels includes:
The Brand/ Estate Name
Generally displayed fairly prominently on the front label. This is the name of the wine producer's estate or one of their brands. This is key information to retain if you enjoy a wine and want to purchase it again.
 The Cuvée Name
Most wineries produce more than one wine. A cuvée name like "Yellow Label", "Bin 407", or "Hommage à…" is a good way to differentiate one wine from another; especially if the estate makes more than one wine from the same grape variety. This information is useful to note down, alongside the estate/brand name for re-purchasing.
 The Grape Variety
The taste of a specific grape variety, once it has been transformed into wine, can vary depending on the climate of the vineyards and/ or the winemaking techniques employed. Just because you like one producer's Malbec, you are not guaranteed to like another winemaker's take on the same grape…especially if one hails from Mendoza and the other from Cahors. Most grape varieties do tend to have basic character traits though that regularly occur regardless of origin, so knowing your preferred varieties can be helpful.
That being said, many European regions traditionally don't, or legally can't, write the grape name on the label. For these regions, like Chianti or the Rhône Valley, the expression of the local terroir is more important than varietal typicity.
In Europe, if a single variety is listed on the label, the wine will contain a minimum of 85% of that variety, with up to 15% of other grapes allowed. In the USA however, a wine with one single grape mentioned on the label can have just 75% of that variety in the blend.
 The Vintage
The vintage refers to the year in which the grapes were harvested. Each growing season is different, especially in cooler climate areas. Colder growing seasons will give wines with more tart flavours and higher acid. Wines from warmer growing seasons will be riper and fleshier. When you are purchasing premium wines, it is worth considering the vintage conditions to get a sense of how the wine will taste or, potentially, how well it will cellar.
If you are buying more affordable, every day wines there is generally less vintage variation but these wines usually don't age very well, so you want to make sure you are buying a recent bottlings. For white and rosé wines  look for a harvest date within the last 18 months or so, for most red wines you can push this up to 3 years.
 The Appellation of Origin
Somewhere on the front and/ or back label, you will see an indication of the wine's origin, sometimes called an appellation. An appellation can be as wide as a whole region like Bordeaux or California, or it can be as specific as a single village or vineyard site. Generally, the more site specific the appellation, the better quality the wine. If you see terms like Premier Cru or Grand Cru on French wine, Classico on Italian wine, Erste Lage or Grosse Lage on German wines, these are indications of superior (sometimes single vineyard) sites.
Quality Designations
Riserva, Reserva, Gran Reserva, Superiore, Smaragd…  Each region and country, especially in Europe, has their own set of terms to denote superior quality wines. Wines with these mentions usually come from better vineyard sites, have achieved a high level of ripeness, and are aged for longer at the winery. I go into more detail about these mentions and appellation specifications in region specific articles.
There are also a couple of very vague terms that wineries love to throw on labels. Some of the most notorious mentions include : "Old Vines" and "Reserve" or "Prestige".
Older vines generally produce a lower yield of more flavourful, concentrated grapes. Wines from healthy 30-year-old or older vines often give high quality wines. However, there is no set legal definition for the term. So, if you see the term Vieilles Vignes or Old Vines on the label, you never really know if the vines are barely teenagers or really are mature adults. If you see a wine labelled "old vine" under 15$, I would be a little suspicious.
The words Reserve and Prestige can also be pretty meaningless. They are meant to imply a step up in quality from the producer's basic wines, and many wineries do employ these terms honestly. Frustratingly, there are countless Prestige or Reserve wines out there that are barely palatable. Sadly, for many wineries, these words are nothing but marketing hype.
The Alcohol Percentage by Volume
A wine's alcohol percentage will tell you a lot about its taste profile. The lower in alcohol the wine, generally the lighter it will be in body. Alcohol gives viscosity to wine, giving a weightier, more rounded sensation. A 12% alcohol red wine will taste very lean on the palate as compared to a 14.5% alcohol version.
Health & Dietary Information
If you look at a wine's back label, you might see some health warnings like:
Contains Sulphites: Yes, many wines contain sulphites – both naturally as a by-product of fermentation – and potentially added to protect them from oxidation and bacterial spoilage. Don't be alarmed though, the level is well within health and safety norms, and contrary to popular belief, most health officials agree that sulphites in wine do not cause headaches.
Suitable for vegetarians/ or vegans: substances are often added to wines before bottling to absorb any sediments and, occasionally, to soften tannins. These are called fining agents. Certain are composed of milk products, egg whites, and gelatin so are not always vegetarian/ vegan friendly. If a wine has been labelled "suitable" for one group or both, it will either be fined using an alternative substance like bentonite clay, or has been bottled without fining.
Other Information
Each wine label or capsule will have a lot code (a string of multiple digits) somewhere on the wine capsule or label that will allow wineries to trace a bottle back to the exact bottling date, batch, and so forth for quality control reasons.
A reference to the bottler, and whether it was estate bottled or not, is included in some countries as well. Some labels also carry information on the importer, wine agency, or distributor that carries a wine. This is a good point of contact for consumers looking for retailer information or wanting to report an issue with a purchased bottle.
Finally, many back labels will also give information about the winery, the winemaking techniques, food pairing options, service temperature suggestions and so on. That can also make for interesting reading if you so desire.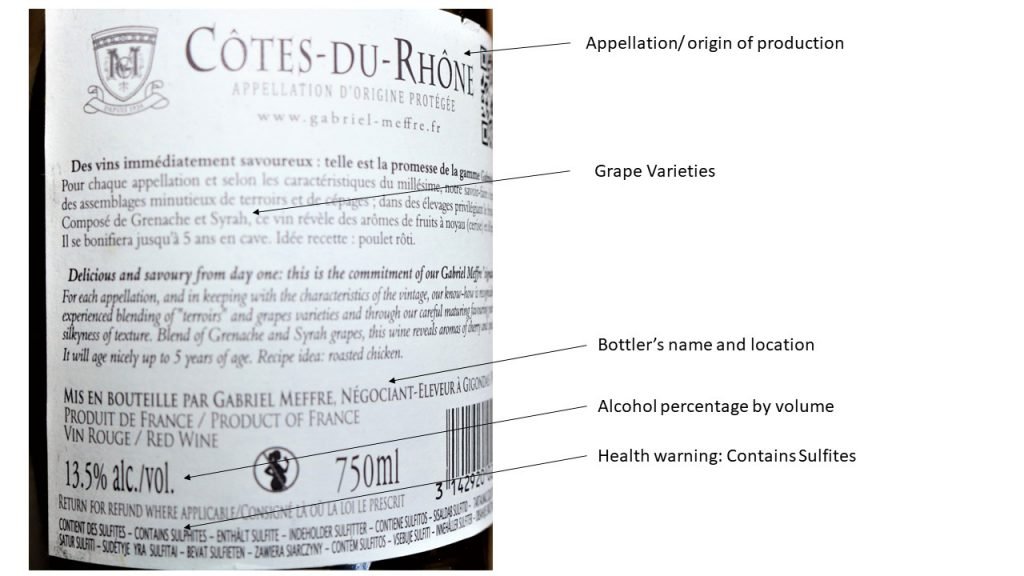 The Video
For those visual learners among you who prefer to watch… here is a video version of the above article!